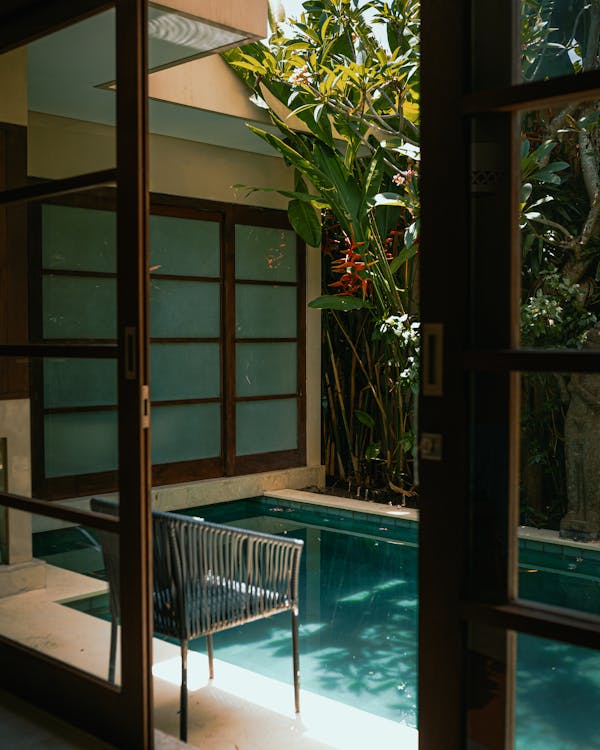 We all deserve to treat ourselves to some luxury now and again. There are various home improvements that you can invest in to give your home a sense of luxury – some of which may be more within your reach than you realize. Below are some of the improvements worth considering.
A new bathroom
By remodeling your bathroom, you could convert it into your own private spa. You could consider splashing out on a new fancy tub or a spacious walk-in shower. Features like underfloor heating, a mirror defogger and heated towel racks could have practical advantages, as well as making the room cosier. You could also consider luxury aesthetic features like waterfall taps and mood lighting.
To reduce the cost of a new bathroom, try to avoid moving around fixtures as this means extra plumbing work (if you're going to buy a new bath, aim to keep it in the same place). It's also worth exploring faux-luxury materials such as synthetic stone rather than spending huge amounts on the real thing. 
A pool
Many of us dream of having a pool in our backyard. This could be great for relaxing in or for practicing your lengths.
Pool installation companies will be able to help you find a pool that best fits the shape of your backyard and best fits your budget. Things like pool heating will cost you extra, but could allow you to still enjoy your pool in cooler weather. You could even consider an indoor pool if you have the space – some people turn their basement into a pool.
A walk-in wardrobe
If you've got a large collection of clothes, another luxury improvement to consider could be a walk-in wardrobe. Spare bedrooms, attics and garages can all make great walk-in wardrobes – consider whether you have a room like this that you could convert.
Walk-in wardrobes are generally not too expensive to install. Installing custom fitted wardrobes could be expensive – you could consider saving money by simply using clothing rails and flat-pack shelving units. 
A balcony
A balcony can be a pretty feature in an upstairs bedroom. Unfortunately, many areas have planning restrictions in place that don't permit balconies due to privacy concerns. It may depend on where your balcony is located – if it's not looking out over someone's backyard it may not matter. You want it to be perfect, and what could be better than a beautiful balcony to relax on during the warm summer evenings, overlooking the view of your choice? If you're considering adding a balcony to your home, you'll need to hire an experienced architect who can help you create the perfect design. Philadelphia architects are not just designers; they are skilled professionals who can help you navigate the complexities of building codes and permits while also ensuring your vision becomes a stunning reality.
Juliet balconies can be a less expensive option and often easier to get approved. This could be something to look into if a regular balcony is not feasible. 
A home bar
A home bar could be a great place for entertaining guests. This could be an indoor bar/entertainment room or an outdoor bar.
There are lots of ways to reduce the cost of a bar. Wooden outdoor tiki bars are often very easy to install and could be great for the summer. You can buy a couple bar stools and buy a  cooler for keeping drinks in. Those that want to splash out a little extra could consider installing a small fridge for drinks, a TV and an outdoor heater.