Step By Step Home Renovation Checklist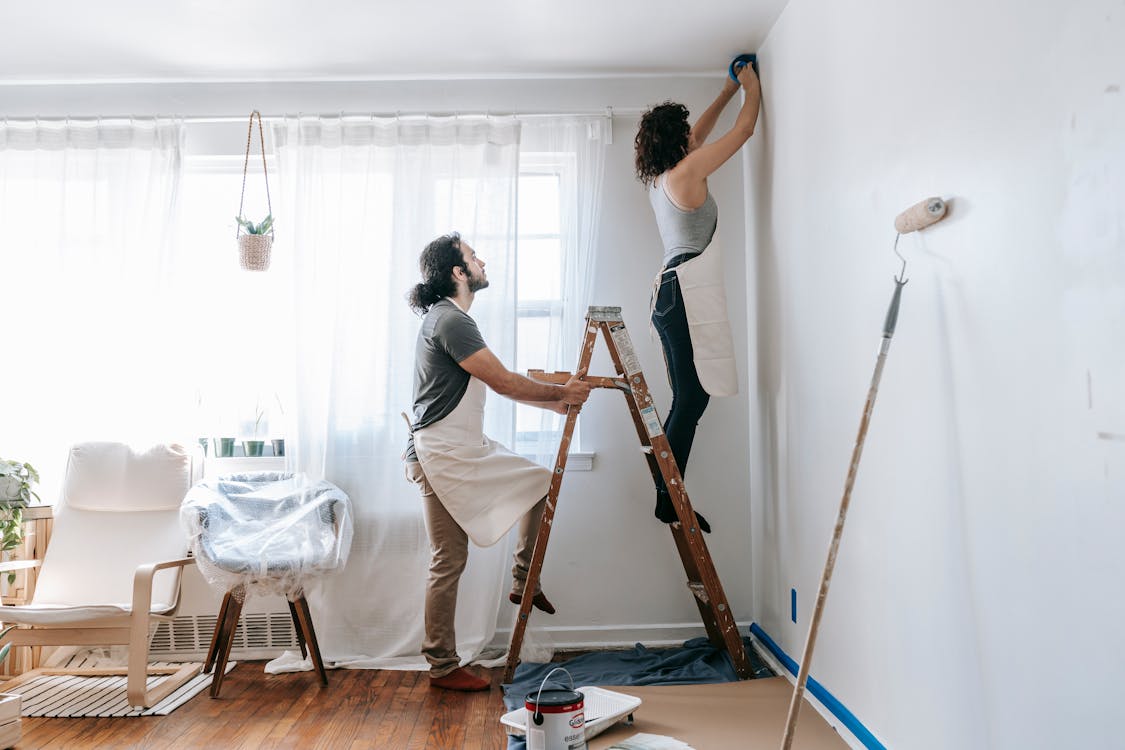 Do you feel like your home is in need of a little makeover? Have you been wanting to spruce up the
living room, redecorate your bedroom, or give the kitchen a facelift? If so, then it's time to get started
on your next home renovation project!
Home renovation can seem overwhelming – after all, there are so many things to consider: supplies
needed, budgeting for the proper materials, finding trustworthy contractors – not to mention all those
ideas cluttering up your head! That's why it's important to have a solid plan and checklist in place to
help guide you through the process.
To simplify the process, this comprehensive guide offers tips and tricks to help you get started. From
creating a budget and setting a timeline that works best for you and your family's needs to develop a
plan of action and shopping checklist – it will cover all in this step-by-step home renovation checklist. Get
ready to start breathing life into those mundane rooms!
Step 1: Set a budget
Before you even start tearing down walls or installing new fixtures, think about your budget. How much
money do you have to allocate toward this renovation project? Make a list of your priorities, such as
where you will temporarily relocate, what will happen to your belongings, and which rooms or features
are most important to update. It's also a good idea to consult with a professional, such as an architect or
interior designer, to help you create a realistic budget and plan.
Step 2: Organize and declutter your space
Now that you have a set number of working with, it's a good idea to clear out any clutter and personal
belongings from the work area. One option is to rent a mini storage unit to temporarily store your stuff.
This will not only help protect your belongings from any potential damage, but it will also make it easier
for contractors to move around and do their job.
Step 3: Determine a realistic timeline
Before you start swinging a hammer, it's important to determine a realistic timeline for your renovation
project. Consider the scope of the work, any necessary permits or approvals that may be required, and
any potential delays that could arise. Communicate this timeline to your team of professionals, and
make sure to allow for some flexibility in case of any unexpected hiccups.
Step 4: Create a design plan
Now for the fun part: designing your dream space! Take some time to gather inspiration and make a
rough sketch or use design software to create a detailed plan. Don't be afraid to think outside the box
and get creative. If you're feeling overwhelmed or unsure about certain design elements, consider hiring
a professional to help bring your vision to life.
Step 5: Assemble a team of professionals
Speaking of professionals, it's important to hire a reliable and reputable team to help bring your
renovation project to fruition. Do your research and compare contractors to find the best fit for your
needs and budget. Don't be afraid to negotiate prices and ask for references to ensure you work with a
reputable company.
Step 6: Prep your home for renovation
Before the real work begins, it's important to properly prep your home for the renovation process.
Remove any personal belongings or furniture from the work area to protect them from potential
damage. Use drop cloths or plastic sheeting to protect floors, walls, and fixtures. And don't forget to
turn off any relevant utilities, such as electricity or water.
Step 7: Demolition and removal
Once everything is cleared out and prepped, it's time to start tearing things down. Carefully and safely
take apart and remove any existing structures or materials, being sure to properly dispose of any debris.
As you're working, keep an eye out for any hidden damage or issues that may need to be addressed.
Step 8: Install new features and finishes
With the old stuff out of the way, it's time to start installing all the new and shiny features and finishes.
This might include new floors, walls, cabinets, countertops, etc. Pay attention to the little details and
ensure everything is level and properly installed. If you're unsure about something, don't be afraid to ask
for help or clarification.
Step 9: Electrical and plumbing work
For the safety of everyone involved, it's important to have professionals handle any electrical or
plumbing work. Make sure to follow all local codes and regulations, and don't skimp on quality when it
comes to these crucial systems. Once everything is installed, be sure to test all appliances and systems
to ensure they are working properly.
Step 10: Final touches
With the major renovations complete, it's time to add the final touches and do some cleaning. This
might include painting any walls and touching up any areas as needed to give your space a fresh and
polished look. If you want the work to be quick and easy, you can reach out to painting professionals at Groovy Hues. Then, it's time to install any final details, such as doorknobs and light fixtures. Be sure to
take your time with these finishing touches and pay attention to the little details to ensure everything
looks its best.
Step 11: Deep cleaning
Once all the new fixtures are in place, don't forget to thoroughly clean the work area and surrounding
areas before calling the project complete. Deep cleaning doesn't just include the work area but also
surrounding areas that may have been affected by the renovation process. Dust and sweep all surfaces,
wipe down cabinets and countertops and make sure everything is looking sparkling clean.
Step 12: Make a shopping checklist
Before officially declaring your renovation project complete, it's a good idea to make a shopping list of
any last-minute items or supplies you may need. This could include things like light bulbs, cleaning
supplies, or even some new decor to finish off the space.
With these final steps completed, you can sit back and enjoy your newly renovated space!
Conclusion
Congratulations, you made it to the end of your home renovation project! It's no small feat, and you
should be proud of all the hard work you've put in. Following a checklist can help ensure that your
renovation project goes as smoothly as possible and helps you stay organized and on track. Don't forget
to celebrate your accomplishment and enjoy your brand-new space!