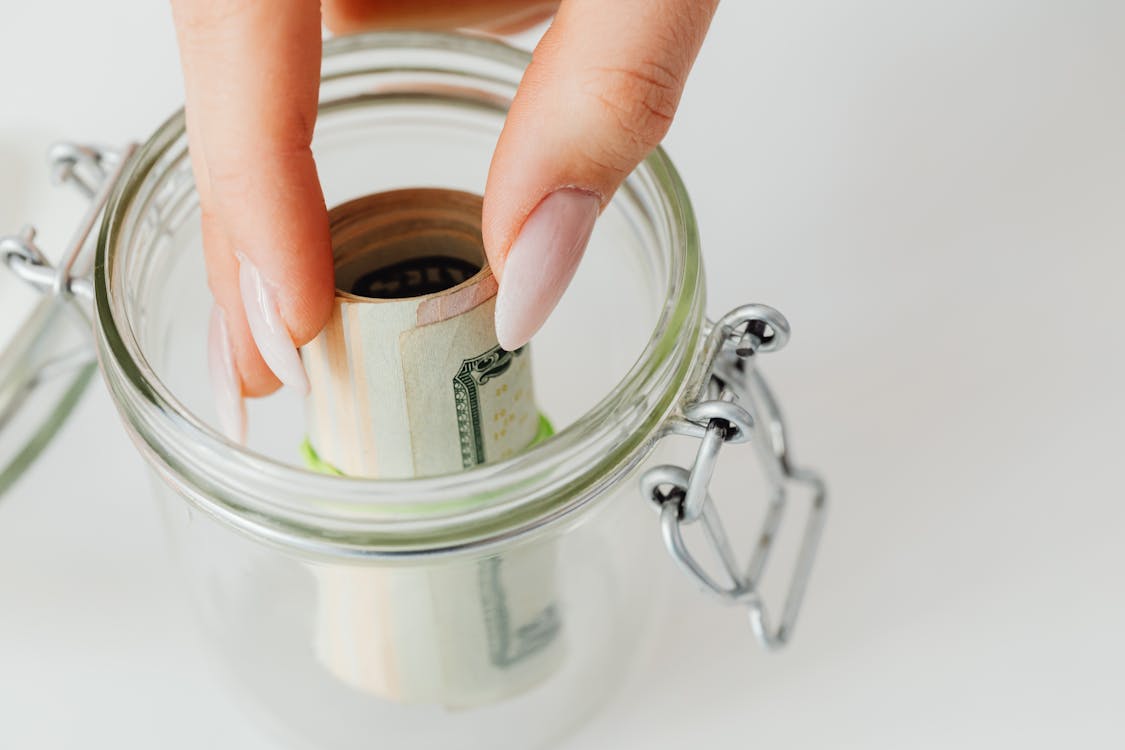 Photo by Karolina Grabowska from Pexels: https://www.pexels.com/photo/person-putting-rolled-banknotes-in-glass-jar-7680473/ 
When looking at the most common goals people have, putting their finances in order always comes first. However, the percentage of the population still struggling with debt and living paycheck-to-paycheck is still great. While you might not be able to achieve your financial goals overnight, there has never been a better time to get started! 
Now that spring is here, you might be looking at cleaning up your home, your wardrobe, and even your garden. So, why not also look into spring cleaning your wallet and streamlining your finances? Here are five simple tips to improve your finances that don't require a complete lifestyle change!
Get Started on a Side Hustle
The first way to improve your home finances is to boost your income. However, if you have a job and a career underway, you might have to wait years until the right promotion comes along. Luckily, you don't necessarily need to change your job to earn more! 
Another valid alternative is to get started on a side hustle. Whether you are into blogging, writing, creating and selling crafts, or renting out your property, there are many ways to improve your earnings and enjoy a passive income stream. Don't forget that, today, we live in a booming gig economy!
Focus on Paying Down Your Debt
For many households, personal and consumer debt is the main hurdle to overcome to achieve financial stability. And, not without reason! Today, the average American household has an average debt of $90,460. 
Whether your personal debt is above or below the national average, owing money might prevent you from building your savings and making the most of your income. Luckily, there are multiple strategies that you can use to start paying down your debt and boost your finances. 
For example, you might consider refinancing or consolidating your debt to access better interest rates and terms. Additionally, you should try to make more than the minimum payment each month, which, in most cases, does not cover much more than the cost of interest. 
Build Your Savings
Building your savings is essential to avoid pitfalls and cope with unforeseen emergencies. For example, building an emergency fund can help you financially support yourself or your kids through college, manage injuries, and afford repairs.
While you might not be able to bulk out your savings overnight, today is the best time to get started with an emergency fund. 
Start Investing
If you are looking for strategies to boost your finances and make your money work harder for you, investing could be an option to consider. Thanks to beginner-friendly investing platforms such as Robinhood and professional trading options such as Metatrader 5, you can get started today. 
When investing, make sure to diversify your portfolio, understand your risk tolerance, and work with a professional who can outline the best investing strategy for your financial circumstances and goals. 
Start a Budget
Many households are hesitant to start a monthly budget, often because this project is considered complex and time-consuming. However, budgeting is the most powerful tool you have to gain control of your finances, boost your savings, and pay down debt. And, with strategies such as the 50\30\20 rule, it won't take you more than one hour a month to get started!