If you have children, it might seem like an impossible dream to also have a clean house, and on some days, if we're honest, it is impossible. However, this isn't how it has to be all the time, and when you are able to put some plans in motion, you won't have so much to do when it comes to tidying up. Here are some great tips for keeping a clean home with small children but remember, the biggest tip of all is not to worry too much about it; those small children will grow up quickly, and if you worry and stress about how tidy your home is while they're doing that, you might just miss out. So do what you can do and don't worry about the rest; it will help you to feel much more relaxed about everything. In the meantime, to help you out, read on.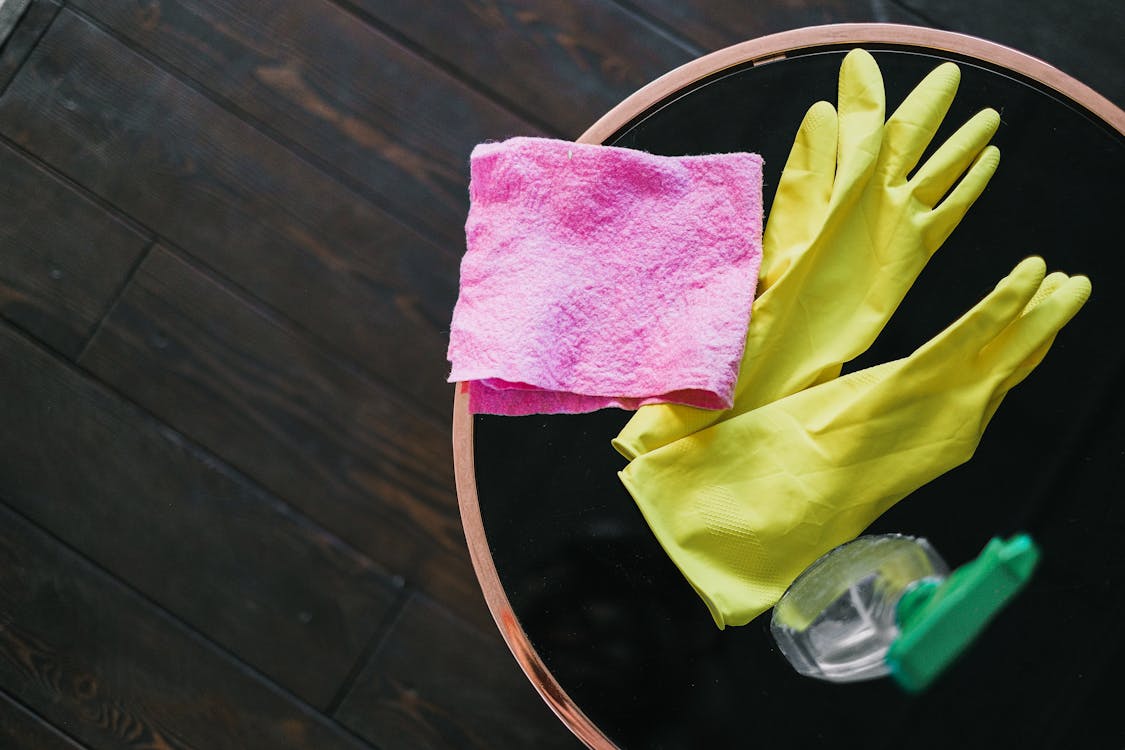 Photo by SHVETS production from Pexels
Declutter Regularly 
Children have a lot of 'stuff'. The younger they are, the more of this stuff they have, and it can end up everywhere, even if you would prefer it to stay in their room and never leave it. Their piles of stuff will be added to regularly, since people like to buy gifts for children, and they will always be bringing arts and crafts and so on home from school. So, because your children's possessions will continue to be added to, you should organize a declutter on a regular basis.
Try to stick to a good routine so that even the children know it's time to start clearing away. You might choose the first weekend of every month, or every other month if you prefer. You can choose any time frame that suits you, but it should be done regularly if you want to keep on top of the mess. Throw out anything that isn't needed and make sure you find room for everything else. Not only will this make your home tidy, but it will help to show the children where things really belong. 
Establish A Cleaning Routine 
When do you do your cleaning? If you're like most people, it will be left until the weekend, at which time you spend a whole day just clearing up and cleaning down and by the time you're done, you feel exhausted and half your weekend is gone, just like that. 
A better way to clean is to establish a cleaning routine. Have one task to do every day rather than waiting until the weekend, and you'll find that you gain a lot of time back (which is useful when you have children and you want to enjoy playing or reading with them, or you want to take them out somewhere), plus you won't be so stressed. 
Keep Them Busy 
If the issue isn't so much that your children make a lot of mess but that they don't give you any time to yourself to get the cleaning done, then you'll need to find some way to keep them busy – and in one place – while you do it. 
One great way to do this is to check out https://www.kidslovewhat.com/. This website offers plenty of information about crafts, baking, and general activities that will keep your children occupied while you're cleaning up. Some of them will be messier activities than others, so read carefully to ensure you don't end up with more mess than you started with. 
Not only will this help you hugely, but it will also potentially give your children new hobbies to enjoy, and that's something that all children will benefit from. 
Get Help 
Life is too short to be stressed about the tidiness of your home, especially when there are lots of people out there who can help you. If your budget will stretch, why not hire a cleaner to come in once a week and take the burden off you? Then on an annual basis, you can hire a professional carpet cleaner, a professional oven cleaner, and maybe a gardener to give your home a more thorough clean. 
Even if a cleaner isn't in your budget, you can still ask for help if you need it. Friends, family, even neighbors will all understand what it's like to try to look after small children and keep a lovely home, and they are sure to chip in with help if you just ask, so don't be afraid to admit that you need assistance; there is no shame in it, and it will help you immeasurably.