Your home is your sanctuary, and you should be proud of it. But, if you're not satisfied with the way that your house looks, don't worry! There are plenty of ways to make it look modern and up-to-date. In this blog post, we'll discuss four things that will help you accomplish just that.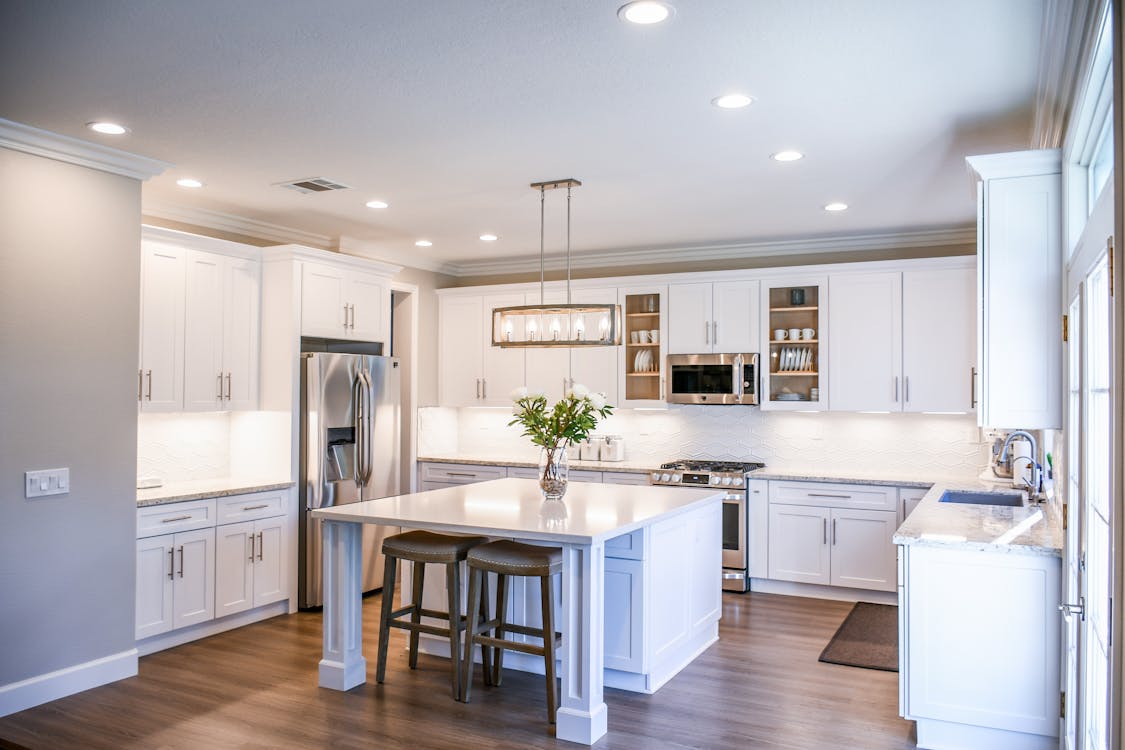 Photo by Mark McCammon from Pexels
#1 New light fixtures
The first step to making your home look more modern is updating the light fixtures. With this simple upgrade, you can try out sleek, contemporary pendants or even go for a classic-style ceiling fixture. Not only do they provide you with better illumination than basic bulbs, but they also give off brighter and richer colors that will transform any space into something magical!
Trying new lighting options in your room is one of the most effective ways to update its appearance without spending too much money on renovations or decorating accessories like curtains and rugs, which are often used as an afterthought. If you're looking for inspiration, don't forget about lamps – there's no limit when it comes to lampshades, materials, and shapes!
#2 Fresh paint
A coat of paint is one of the easiest and most affordable ways to update any room in your house. It can completely change the appearance and feel of a space, making it look brighter, bigger, and more modern. Plus, if you're ever feeling bored with your home's color scheme, you can simply repaint and try out something new!
There are so many different shades and finishes available on the market these days that there's definitely something for everyone. So don't be afraid to experiment – go for a dark green or navy blue in the living room, or maybe a light pink or baby blue in the bedroom. Just make sure to choose colors that will complement each other and your existing décor!
#3 Crown molding
Another simple way to update your home's appearance is by installing crown molding. It can instantly transform the look of any room, especially if you choose a beautiful and luxurious wood with intricate details like oak or walnut. Not only will it make your space feel more elegant, but also warmer and cozier! And there are so many ways that you can use this versatile trim around the house – from edging custom kitchen cabinets to creating an accent wall in living rooms or even as a headboard for beds! 
Of course, you might want to consider hiring professionals such as Neo Kitchen when installing crown molding since it requires some precise measurements, which may turn out problematic without previous experience. But once it's done, enjoy all those compliments coming from guests who'll be completely blown away by your home's transformation!
#4 New kitchen appliances
The kitchen is often the heart of any home, and it's definitely one of the most important rooms to update when you're trying to give your house a more modern look. Start by replacing your old appliances with new ones in a sleek and contemporary design – this will instantly make your kitchen feel newer and more up-to-date. Plus, brand new appliances are often much more energy-efficient than their older counterparts, so you'll be doing yourself a favor environmentally speaking as well! However, you could also get in touch with appliance repair pros if you'd rather have your older ones fixed up!
There are plenty of different designs to choose from when it comes to kitchen appliances, so take your time browsing through catalogs or online retailers until you find something that matches your style and needs perfectly.
In conclusion, updating your home doesn't have to be a time-consuming and challenging task. In fact, you can change the look of any room in just one day with these easy upgrades!